From available information, H L Shepard of Cincinnati Ohio as a company began in 1875. In early 1874, Herbert Shepard applied for and received a patent on "improvements in band-pulleys" Patent # 148,514. An early H L Shepard catalog might help to shed some light on this early period on him and the company.
This early catalog describes what Shepard calls his "Self-Oiling Fountain Pulley" which is covered by this 1874 patent. In the catalog description he says "having had great experience in manufacturing rapid running machinery, I found great trouble in loose pulleys. I have tried wicking, leather, felting and most of the present devices put into loose pulleys with very poor satisfaction and it occurred to me that a loose pulley must have constant circulation of oil to be dependable and self-oiling."
One of the testimonials dated March 15, 1876 says "We have had them in use since November (that would be 1874) on elevators and they have given good satisfaction."
That catalog advertises a 12 in swing, gap-bed foot powered metal lathe (20 inches at the gap – see below) and includes a testimonial for that lathe dated January 15, 1876 saying "The lathe had arrived in good order over a month ago…"
So would take it from this that Herbert Shepard was at least experienced with machinery before 1874 and when he did get started as H L Shepard, he lost no time in getting a design for his lathes as well as the manufacturing infrastructure needed to cast and machine them and to begin the sales and marketing effort.
This time frame for Shepard compares to WF & John Barnes introducing their first foot powered scroll saw in 1870 and a wood lathe in 1874. There first metal lathe, the #2 shows in an 1877 catalog as a very light duty metal lathe with a 7 inch swing and 20 inches between centers.
Of note is this early 1876 catalog did not have the "& Co" at the end of H L Shepard!
Here is the front of that catalog and some key pages showing what Shepard was offering.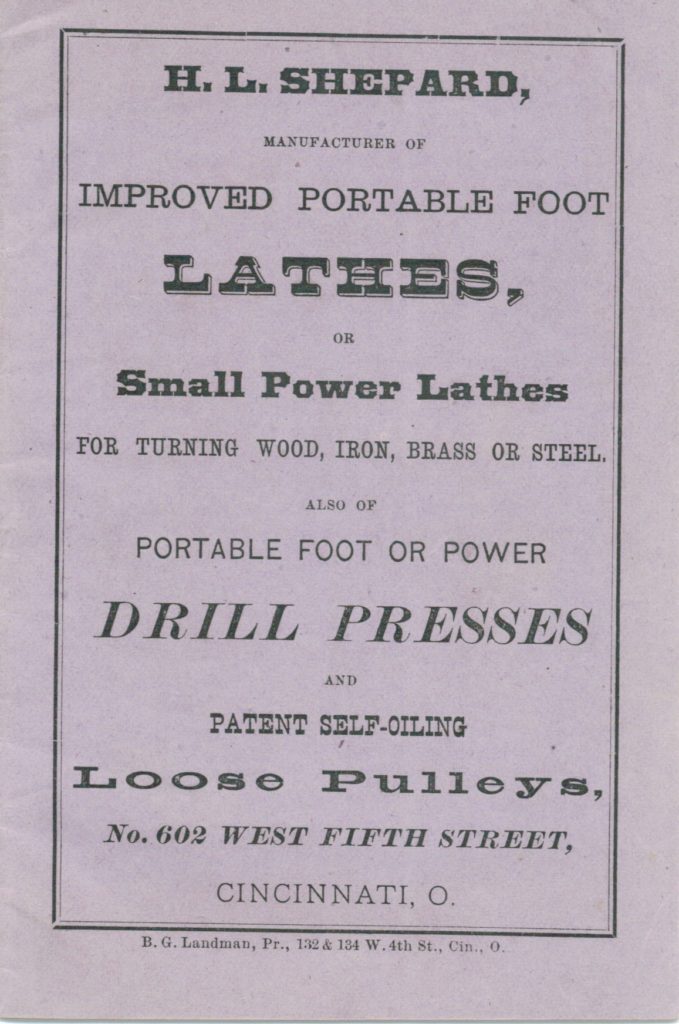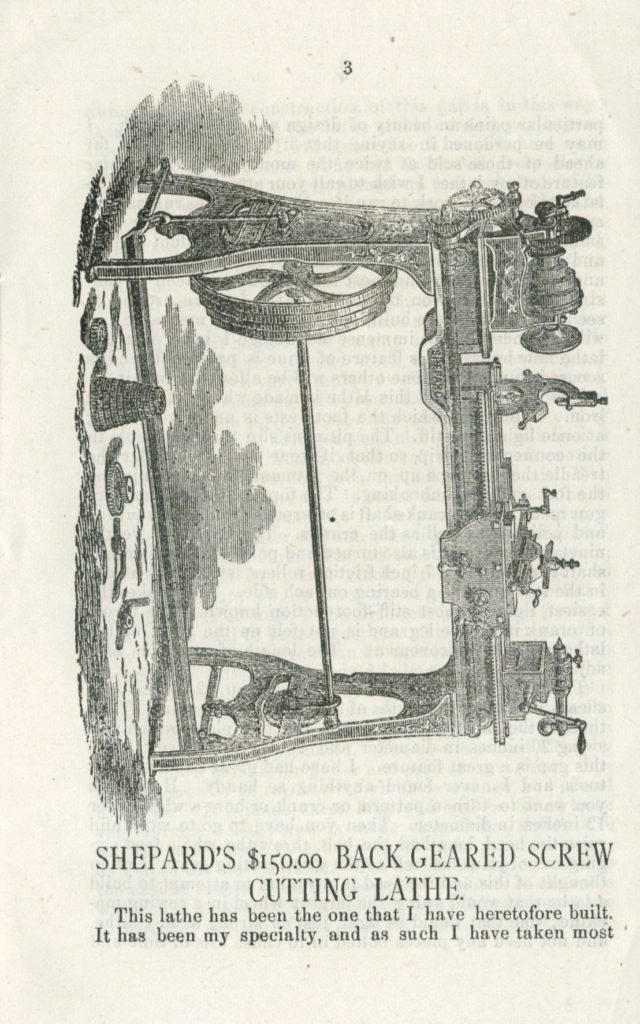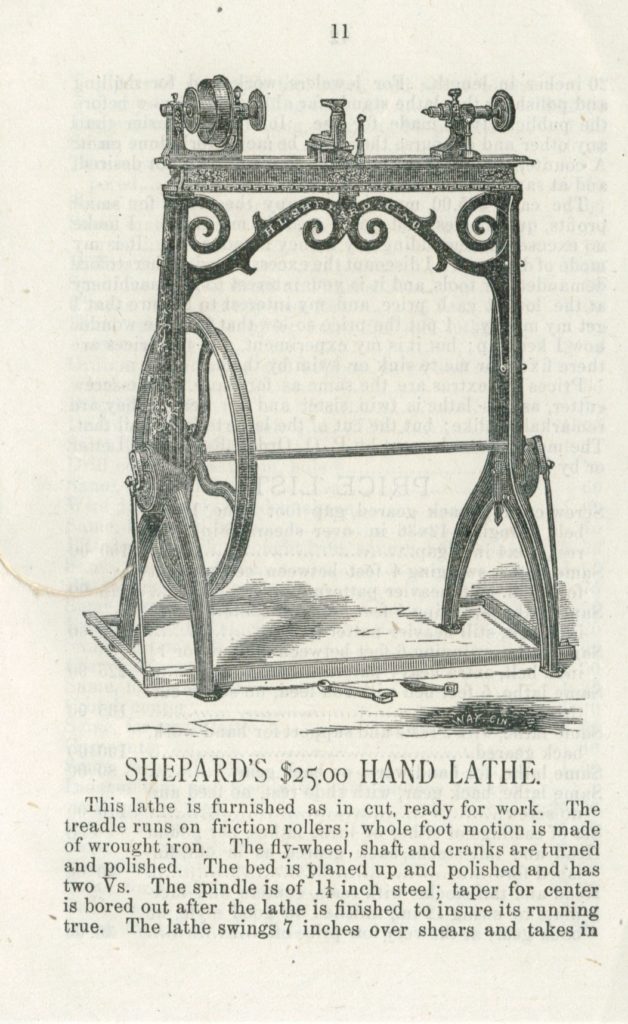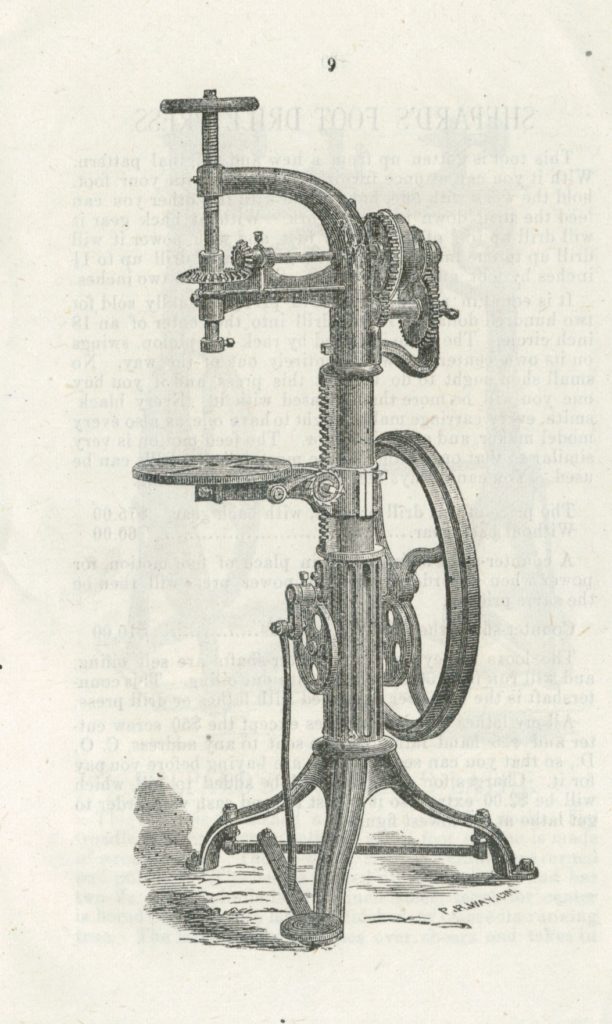 This is the page with the patented pulley shown.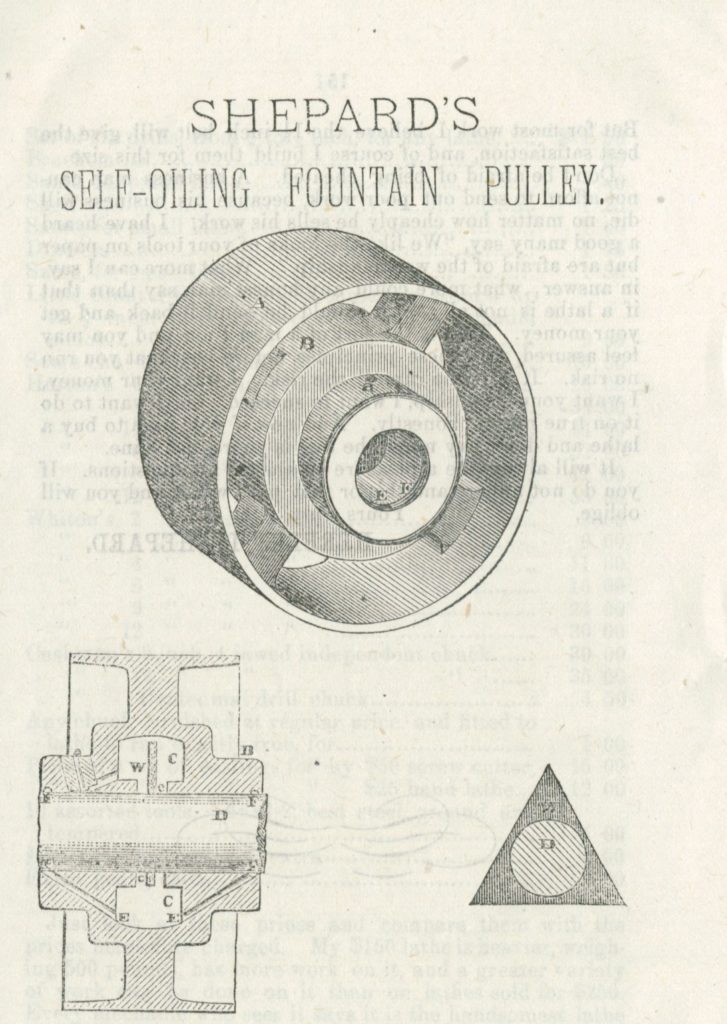 Catalog cut from an 1880 Jackson and Tyler catalog.
This original one needs some restoration and cleaning but has some of the pin striping and all of the metal decorations.
They also made a line of more robust foot powered metal lathes such as shown in these catalog cuts
A shot of a fully tricked out Shepard foot powered metal lathe with sliding seat.
More to come