The Union was introduced in the early 1890's and was very likely the last of the foot powered machine line produced by Seneca Falls. In addition to the table saw itself, Seneca Falls offered a self-feed ripping device with extension rollers, a boring attachment as well as a molding attachment and was offered for steam power without any of the foot powered pedals. This saw was a direct competitor to the Barnes #4 Table Saw and was a follow-on to the Acme circular saw also made by Seneca Falls.
Made almost entirely of cast iron including a good part of the table and with all the attachments, she could weigh almost 500 pounds. Two flywheels and a large gear that transferred the power from the treadles via a smaller gear to the mandrel made the saw what might be considered massive especially for a foot powered machine.
Foot power was provided by what they called an "Improved Walking Motion." Two foot pedals allowed the machine to be operated standing with either foot or sitting on a stool with both feet. Seneca Falls claimed this to be a "radical change that offered maximum power with minimum exertion and fatigue." (They were probably comparing themselves to the W F & John Barnes Company which was their chief rival.) For ripping, two crank handles were provided to keep the operator out of the line of the work and to allow it to become a "two person power" machine!!
Here is a modest description from Seneca Falls catalog circa 1894
The molding attachment or as Barnes called theirs, a Former, fit down in the table once the saw mandrel was removed. Cutters from their stand alone Rex Moulder could be used with this attachment
This catalog page shows the moulding head in place in the table and a combination groover and dado head made by Huther.
In addition to being heavy, she was very long when the in feed and out feed tables were extended. It came with two rip fences as well as miter gages. The self-feed ripping device can be seen to the left.
The boring attachment went in after the table top was raised and was driven by a small gear meshing to the main drive gear.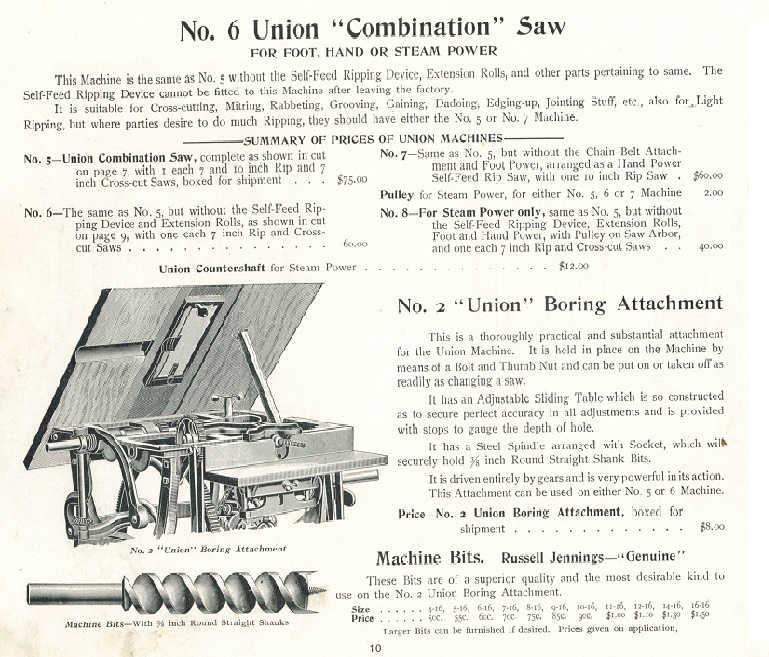 This shot shows the boring attachment on top of the table in addition to crank handles used by helpers for heavy work!!.
And finally, Seneca Falls offered a scroll saw attachment. It was basically the top part of the Empire scroll saw which that they also offered.