W. L. Chase was an early 1870's manufacturer of lathes, both foot powered and line shaft drive as well as hand planers for metal. Their "Eagle" brand of foot powered lathes had a very distinctive design including a fleur-de-lis shape in each leg. It was available plain or with a highly ornamented pin striping design. Brackets on the back of the bed allowed for mounting a very handy wood shelf.
From 1874 Industrial Interests of New Jersey on Google books – results of a search.
W. L. Chase & Co., 7 Alling-street: salesroom, 93 to 97 Liberty-street, New York. This manufactory was established in 1872, and its production consists of Woodman's screw cutting foot lathe, slide rests and lathe fittings. This is an improved foot lathe, and is the product of Mr. E. F. Woodman's designs and improvements in lathe machinery. Mr. Woodman superintends the manufactory, and the firm comprises himself and Mr. W. L. Chase. Ten hands are employed, and the weekly wages amount to $100, the value of annual production being $15,000
They sold their machines directly as well as through dealers and suppliers as seen in the 1880 Jackson and Tyler catalog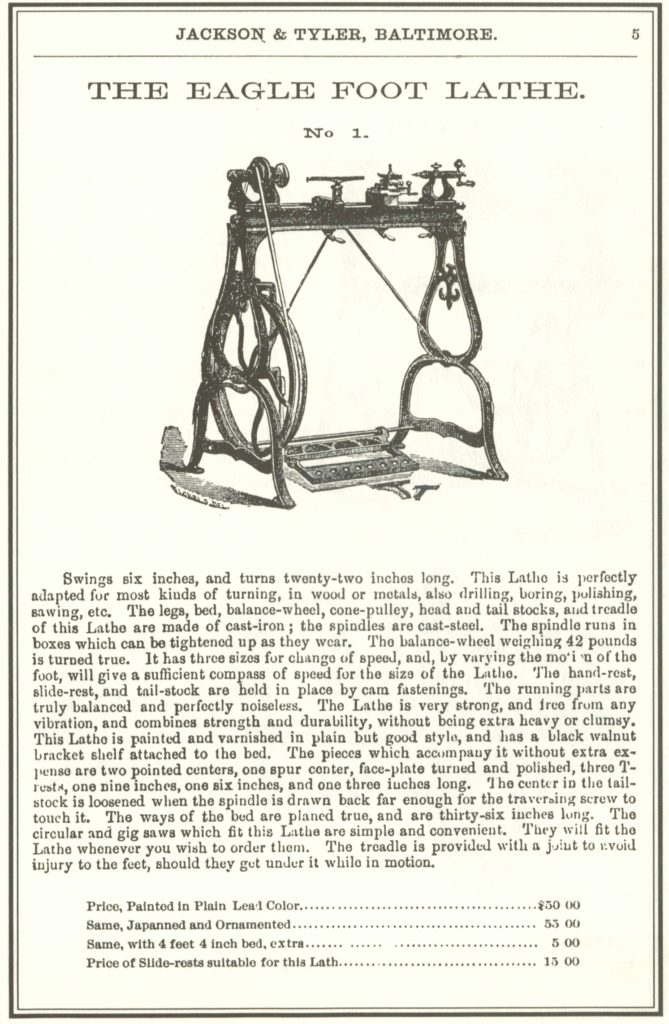 Here is a picture of a complete Eagle lathe where the rear shelf can be seen holding a number of attachments. Some of the ornate decorations are just visible as is the "coffee with cream" base color of the lathe. Note the headstock that used what was called a trapezoidal belt – an early form of a "V" belt that was made by sewing together several progressively thinner width wise leather belts one on top of the other. Restoration will take time and a lot of care so none of the details are missing.
They also made a larger version of the lathe that used standard flat leather belting. Here are some shots of that lathe. Note that some of the painting and pin striping is still visible as are the rear mounts for the shelf which was missing. The treadle design is similar in that it will fold up in the middle with the larger lathe using different connection to drive the flywheel.
Base color visible on the inside of the headstock pulley
Some of the pin striping on the rear of the bed and the base color
Looking down on the rear of the lathe with the rear shelf mounts showing. Note the pivot point in the treadle at the same place as the pitman arms come up to the shaft.
And all these used that distinctive shape in the legs as shown on this picture from an Internet auction site.